When it comes to rubbish ELKA is the name that distributors, businesses and cleaning professionals trust. The reason for this is the advanced high-density and low-density virgin plastic films make our bags extremely tough and durable, even at low gauges.
ELKA bin liners and ELKA garbage bags are also extremely competitively priced.The thinner, stronger plastic virgin films used to make ELKA garbage bags means less waste going into landfills making them a solid environmental choice.
ELKA bin liners and garbage bags are manufactured to suit a wide variety of environments from small waste bins in offices, kitchens and schools to heavy weight operations in restaurants, clubs, hotels and councils. ELKA plastic bags are manufactured from 100% virgin material making them strong & durable yet extremely economical.
Below Is Summary Of Features
Superior strength
Resists punctures and tears
Star bottom seal eliminates leaks and odours
Flat bottom seal for thicker gauge bags
Conveniently packaged on perforated rolls for easy use and storage
Full range of sizes (20 litre – 240 litre) and gauges (9 micron – 35 micron)
Contributes to environmental source reduction — reduces plastic waste up to 25%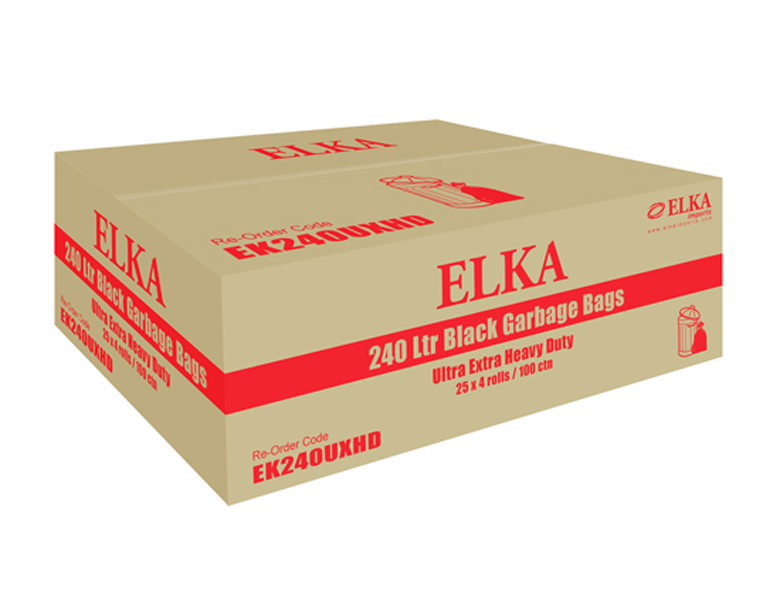 Most ELKA garbage bags feature a star seal because it is the strongest seal and it virtually eliminates seal failure and leaks. With our thicker micron bags a star seal isn't possible, so a flat seal is used to create the strongest seal for our heavier duty garbage bags.
Star Seal: This is the most common seal that optimizes a bag's carrying capacity, eliminates leaks, and distributes weight evenly throughout the bag. This seal is created by folding the liner several times before sealing.
Flat Seal: A strong seal that is straight and constant across the bottom of the liner. Flat seals do not compromise the length of the bag.
Below Is A Product List Of All ELKA Garbage Bags That Are Star Seal
EK510B – 510 x 510 Black Tidy Liners Carton Of 1000
EK27TB – 27L Black Tidy Liners Carton Of 1000
EK27TW – 27L White Tidy Liners Carton Of 1000
EK36TB – 36L Black Tidy Liners Carton Of 1000
EK36TW – 36L White Tidy Liners Carton Of 1000
EK54HD – 54 Heavy Duty Black Garbage Bags Carton Of 250
EK75BLK – 75L Black Garbage Bags Carton Of 250
EK75BLU – 75L Blue Garbage Bags Carton Of 250
EK75HD – 75L Heavy Duty Black Garbage Bags Carton Of 250
EK82BLK – 82L Black Garbage Bags Carton Of 250
EK82BLU – 82L Blue Garbage Bags Carton Of 250
EK82XHDC – 82L Extra Heavy Duty Clear Garbage Bags Carton Of 250
EK120HD – 120L Heavy Duty Black Garbage Bags Carton Of 200
EK120XHD – 120L Extra Heavy Duty Black Garbage Bags Carton Of 200
EK120UXHD – 120L Ultra Extra Heavy Duty Black Garbage Bags Carton Of 200
EK120XHDC – 120L Extra Heavy Duty Clear Garbage Bags Carton Of 250
EK140HD – 140L Heavy Duty Black Garbage Bags Carton Of 200
EK240HD 240L Heavy Duty Black Garbage Bags Carton Of 100
EK240XHD – 240L Extra Heavy Duty Black Garbage Bags Carton Of 100
EK240UXHD – 240L Ultra Extra Heavy Duty Black Garbage Bags Carton Of 100
EK240XHDC – 240L Extra Heavy Duty Clear Garbage Bags Carton Of 100
These Products Below Are All Flat Seal
EK82HD –  82L Heavy Duty Black Garbage Bags Carton Of 200
EK82XHD – 82L Extra Heavy Duty Black Garbage Bags Carton Of 200
EK82UXHD – 82L Ultra Extra Heavy Duty Black Garbage Bags Carton Of 200