It doesn't take long to collect a lot of 'stuff' does it?  Whether you're living alone in an inner city apartment, or in a house with a growing family, stuff just accumulates.  Before long you are screwing up clothes in the bottom of your wardrobe, avoiding full drawers which are bursting with stuff which hasn't seen the light of day for years, and tripping over broken toys on your way to the bathroom.
Take a look around your home, is it ready for a major declutter?  If it does, then follow our top tips to declutter like a boss!
Our best Elka tip is to break down the declutter room by room using decent garbage bags that won't split or rip when you start filling them up..  You can manage at your own pace without feeling overwhelmed, and it feels good to see each room cleared!
Streamline Your Kitchen
Seek out all those dust covered wonder gadgets lurking in drawers and on top of kitchen units.  If you bought the '12 ways to cut a tomato wonder cutter' while watching late night shopping channels, don't feel guilty, we've all done it!  Grab any kitchen gadgets, or equipment you haven't used for a year and split into broken and working piles.  Sell, give away, or donate working items to charity and dispose of the rest.
Bright As A Button Bedrooms
Clearing out the kid's bedrooms can be chaotic with screams of 'But, that broken piece of Lego is my favourite!!!!" and other deafening tantrums ruining your decluttering vibe.  The key is to de-clutter when the kids are out.  If anything is broken, be ruthless and chuck it away.  Anything the kids haven't used, or grown out of, store in the garage or your bedroom for a couple of days.  If the kids don't notice, then that's your green light to sell, or donate to charity!
For adult bedrooms, the wardrobes tend to be the most cluttered.  Follow the same rules as you would give to the kids.  If you haven't worn it for a while, then it's time to go!  If you have some classic pieces of clothing that cost a lot, or are sentimental, pack them up in a vacuum pack or store in the spare room so they aren't cluttering up your current day to day clothes.  Invest in some space saving hangers too which will instantly neaten up your wardrobe space!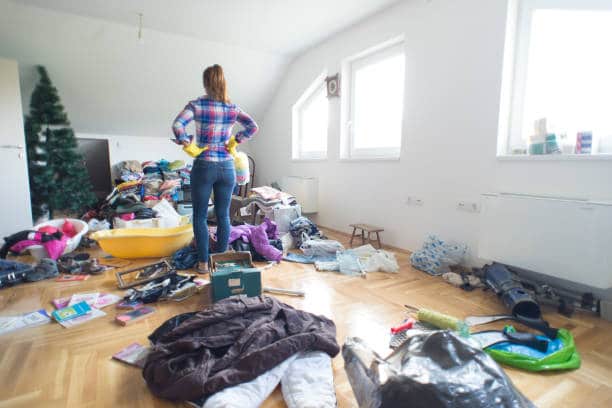 Living Rooms You Can Live In
Living rooms tend to collect ornaments, gifts, paperwork, books, magazines and other trails left from day to day life.  Once you've cleared out everything take a look at your living room. Is it full of mismatched cushions and garish rugs?  Pick a neutral colour palette with one or two matching colours for a brighter look and your living room will soon look like a show home!
Gardens And Garages To Enjoy!
Sweep the backyard for broken furniture and toys.  If you have a trampoline the kids no longer use, sell it on Gumtree and you can make some money and get someone to pick in up at the same time!  Steam clean any mildew and mould covered surfaces and sweep up any broken branches or debris from the lawn. Your local rubbish remover can help you with the clean up too, so shop around and get and an extra pair of hands if you have a large backyard.
You now have all the tools to declutter like a boss!